Back to Events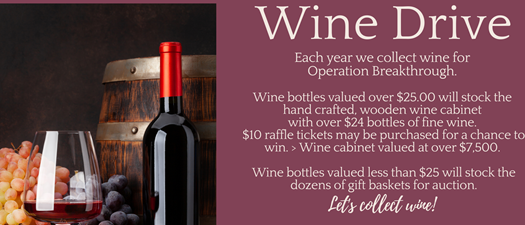 Operation Breakthrough's 23rd Annual Wine Drive Fundraiser
Wednesday, April 21, 2021
at
12:00 AM (CDT)
to Thursday, June 24, 2021 at 5:00 PM (CDT)
Event Details
Operation Breakthrough's 23rd annual fundraiser!!!
This year is the 50th Anniversary of Operation Breakthrough!
This year's theme is "Big Dreams, Bright Futures!"
SO EXCITING!!
At AAKC we will be helping in 2 ways.
Wine Drive: We will collect wine for the wine cabinet and for the baskets!! We need lots of wine.
Raffle Ticket Sales: We will sell raffle tickets at $10/ea for a chance to win the Custom Wooden Wine Cabinet by Byrne Custom Wood. (https://www.byrnecustomwood.com/) I mean, wouldn't that cabinet look GOOOODDD in your home. Wow!
WINE DRIVE: (Electronic Flyer Attached!)
Bottles of wine valued over $25 to stock the wine cabinet. Lee Ducket is asking for at least 3 cased worth or 36 bottles. She also makes some "super wine" baskets with the fine wines.
Bottles of wine valued below $25 to fill dozens of baskets. These wines will be paired with other donated gifts and placed in baskets to be auctioned off at the Gala.
I have attached a flyer for your convenience. This is designed to use for your properties/businesses. Please let me know if you'd like it edited in any way. This was done on Canva, so I'm not able to supply an editable version.
For wine pick-up, please call or email me.

jennifer@pactkc.com

or 816-602-3000.
Lee stated that she would like the wine to start coming in asap. Let's do this!!

TIP: Get creative… You can always use this as a community/team building event. Each wine bottle donated = a raffle ticket entered to win ______ at your property/company… etc…
RAFFLE TICKETS for the Custom Wooden Wine Cabinet: (Electronic Flyer Attached!)
To order Raffle Tickets Electronically, click or visit the url below:
https://operationbreakthrough.org/events/2021-big-dreams-bright-futures-annual-event
Brief instructions: For Raffle ticket purchase at the link, you will select "other" and enter the amount based on tickets at $10/ea… then follow the prompts. (ei. For 10 raffle tickets, enter $100.00 as the amount.)
Raffle Tickets can be sold until the week of the event, on June 24th.
If you would like physical tickets for wine sales, contact me. I will be happy to check out tickets to you. You will be required to return the tickets to me or have $ ($10/tickets given out/missing).