Back to Events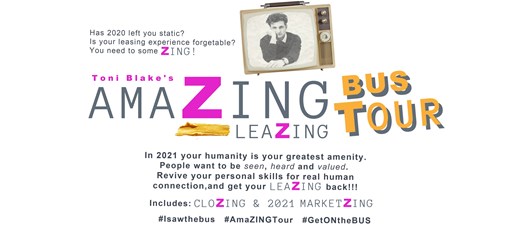 Toni Blake's AmaZing Bus Tour: LeaZing, CloZing & MarketZing & Keynote
Wednesday, June 23, 2021
Event Details
About Seminar:
Has 2020 left you static? Is your leasing experience forgetable? You need some ZING!
In 2021, your humanity is your greatest amenity. People want to be seen, heard and valued. Revive your personal skills for real human connection, and get your LEAZING back!!!
Includes: CLOZING & 2021 MARKETZING
Abour Keynote:
Challenging times require us to rebound quickly. The new normal is not normal. How are your teams dealing with the internal personal struggle to be resilient?
Toni
Blake
shares an empowering message of personal choice and attitude. Learn the power of resilience to establish a clear vision, inspire commitment and maintain momentum. Bring your entire team for a memorable experience to revive team spirit and excellence.
About Toni:
Toni Blake is a popular keynote speaker and comedienne. Her presentation style is unique with a "laugh while you learn" combination of education, comedy and a large dose of enthusiasm. She is recognized for her research and innovative concepts in customer service, sales, and marketing. She has been published in many industry trade magazines and is a popular guest on multifamily radio and podcast episodes. She has over 30K followers in social and over .5M views on her Facebook videos. She is a burst of energy and filled with wisdom. Toni is passionate about being an agent of positive change. Stay in touch with TotallyToni by following her in real-time on Facebook, Twitter, Pinterest, and Instagram!
Agenda:
9:30 a.m. to 11:30 a.m.: Toni Blake's AmaZing Bus Tour: LeaZing, CloZing & Marketing (Seminar) 2 CEC credits
11:30 a.m. to 12:30 p.m.: Membership Luncheon
12:30 p.m. to 1:30 p.m.: Toni Blake's Bounce Back: The Power of Resilience (Keynote) 1 CEC credit
This event is worth a total of 3 CEC credits.